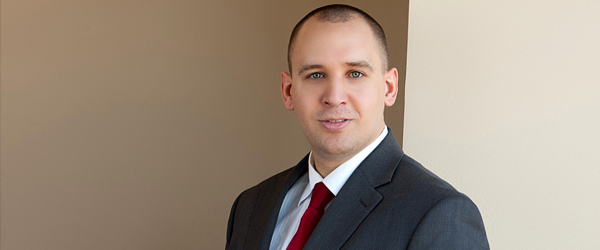 Andrew L. LeGrant
After receiving his undergraduate education from Drake University, Andy LeGrant attended Drake University Law School. He graduated in May 2006, earning certificates in litigation and dispute resolution, constitutional law and civil rights, and public service. During law school, he participated in Drake's legal clinic, where he represented children both as a student-attorney and guardian ad litem. In those capacities, he handled juvenile delinquency matters and child-in-need-of-assistance ("CINA") cases. Andy also volunteered at both the Iowa Coalition Against Domestic Violence and Youth Law Center during law school.
Employment law and civil rights have been the focus of Andy's legal practice from the beginning of his career. During law school he clerked for a West Des Moines law firm specializing in employment law. He worked at the same firm as an associate attorney handling employment law and civil rights matters almost exclusively for approximately five years. He established LeGrant Law Firm in August of 2011.
Andy regularly reviews and analyzes developments in employment law and civil rights. In April 2010, he presented the case law update at the Eighth Circuit National Employment Lawyers Association's biennial seminar in Minneapolis, Minnesota. His familiarity with legal trends and his commitment to legal scholarship have led to significant success on appeals involving nuanced and cutting edge employment law issues.
In addition to arguing appeals to the Eighth Circuit Court of Appeals and prevailing in appeals before the Iowa Supreme Court, Andy has tried cases to juries as lead counsel in both state and federal court. For instance, in its ruling on post-trial motions, the United States District Court for the Southern District of Iowa observed that Andy and his co-counsel "clearly were well prepared for trial and experienced in this type of litigation. The Court has no doubt that the expertise of both lawyers played a substantial role in Plaintiff's receipt of a jury verdict and punitive damages on her retaliation claim."
Andy's published decisions include:
Lewis v. Heartland Inns of Am., L.L.C., 764 F. Supp. 2d 1037 (S.D. Iowa 2011)
Lewis v. Heartland Inns of Am., L.L.C., 591 F.3d 1033 (8th Cir. 2010)
Cross v. Prairie Meadows, 615 F.3d 977 (8th Cir. 2010)
Arispe v. Walgreens et al, 759 N.W.2d 812 (Table) (Iowa App. 2009)
Jasper v. H. Nizam, Inc. et al, 764 N.W.2d 751 (Iowa 2009)
Jasper v. H. Nizam, Inc. et al, 735 N.W.2d 203 (Table) (Iowa App. 2008)
Schmit v. Iowa Mach. Shed Co., 2006 Iowa App. LEXIS 1184 (Iowa App. 2006)
LeGrant Law Firm: It's Your Livelihood. Expertise Matters.